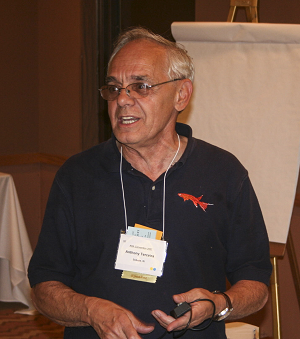 Home Base: North Scituate, Rhode Island
Willing to travel: Yes
Bio: Tony Terceira has been an active member of the AKA for over 40+ years, holding many positions in the organization during that time, including secretary of the Board of Trustees, photography chairman, and editor of the Journal of the American Killifish Association. In 1982 he received the AKA s highest honor, Fellow of the AKA, for his numerous contributions toward the goals of the organization.
Tony is an award winning internationally renowned photographer, and his exceptional fish photographs often grace the pages of the AKA's Publication efforts. He has written and illustrated numerous articles which have appeared in JAKA and other publications worldwide
He is author of Killifish, Their Care and Breeding, which was published in 1974. It is still a definitive work in the hobby. . A sought after speaker, his presentations are seen in most aquarium clubs and conferences nationally.
Recently, he has published in the digital format and together with Charlie Nunziata he has published 2 E books on CD. One dealing with the Fundulopanchax gardneri Group and the other a collection of 35+ years of killifish photographs. Currently he is the photo editor of JAKA, and a member of the JAKA Editorial Advisory Board.
Tony enjoys collecting and maintaining native fishes as a part of the hobby. In 2009 he completed a collecting trip in Peru and Amazon River with many of the same friends he has collected native fish with over the years.
In 1999 he retired from a long career in education, where he served as Director of Mathematics for an Urban Public School District in Rhode Island.
Contact: speakers@aka.org