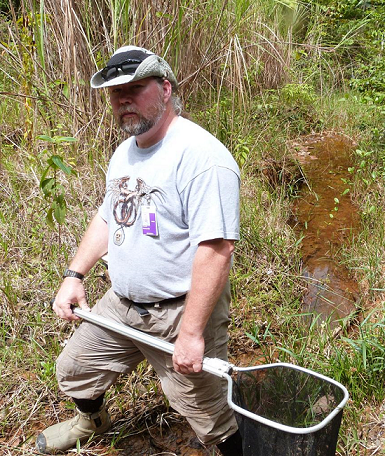 CHAIRMAN'S WELCOME
Ken Normandin (2022)
Welcome to the web site of the American Killifish Association. This is your online portal to the fascinating world of killifish. Members and non-members are welcome here, although a few features are reserved for members only. If you are not yet a member there is still plenty for you here. If you are a member, I hope you are taking advantage of all the web site has to offer.
The killifish hobby is suitable for aquarists of all ages and skill levels, and members of the AKA have always been eager to help all who are interested in killifish. Killifish keepers range from those that have a single nano tank on their desk to those with a basement full of aquaria. You can get into the hobby for only a few dollars, yet with over a thousand killifish species, never get bored. While most killifish don't have common names, don't let the scientific names intimidate you. In no time at all you can mispronounce the names along with the rest of us.
The AKA website has some useful resources that we are constantly trying to add to and improve. These include forums where you can access the communal knowledge of the killie community, an online library with articles containing useful tips, a gallery of pictures second to none from which to make wish lists, and links to affiliate clubs where you can find out about killie happenings a little closer to home.
Our website can also help to connect you to other valuable resources. You will find links to our Facebook page as well as to extensive websites hosted by other hobbyists and killifish organizations. These sites offer a wealth of information about keeping killies that will help to maximize your enjoyment and success with kilies.
The best way to get started is to learn from those already in the hobby. Strike up a conversation on the forums, participate in the discussions on Facebook, or use the roster to find members close to where you live. Find an affiliate club close to you. Check out the calendar to see if there are any events near you. Through these contacts you will not only be able to learn more about keeping these interesting little fish, but you will be able to increase your access to them. Don't be afraid of purchasing eggs or fish through the mail. Killies are surprisingly resilient and are quite easy to ship. If you are able to go to the annual convention you will see hundreds of pairs of killifish on display. You will have opportunity purchase fish and talk to dozens of killifish keepers. You may make some new friends.
I hope you look around, find something that interests you, connect with fellow keepers, and think of our web site when you think of killifish.
Ken Normandin, AKA Chairman
American Killifish Association