Import Index
30th July 2003. Colombia.
An unusual collection with a strange collection history.
Collected by Steve McAlear in a recently cleared jungle area to make a road to a butterfly farm.
The biotope was in two small pools ringed with small dykes. It was noted that no spring or stream fed these pools & they were reliant on water from overhanging vegetation from downpours. This area was previously under the forest canopy. No aquatic vegetation were observed. The water lay on a sandy loam covered with leaves. Fish could be observed jumping from this area.
Seven fish were collected from this area in a 500 ml pop bottle at 11 pm. These were transported for 2 days on a river boat. Three fish survived which were sent to the UK. On arrival one was dead but 2 females survived.
This was a remote area but we are hopeful of getting more fish in the future.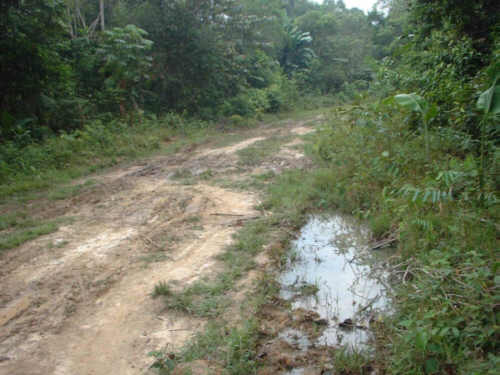 Collection site of Rivulus in a bottle.
Photo courtesy of Steve McAlear.
The bottle which held the fish from their wild biotope to the UK.
Photo courtesy of Steve McAlear.

We only had females in this shipment in September 03 but we received males in a shipment in March 04 from the same pond.

Males received in March 2004.
Photo's courtesy of Alan Green.

Male photographed in Colombia.
Photo courtesy of Steve McAlear.

Female. Photo courtesy of Alan Green.

Male took after settling in. Note orange in belly region.