L 97
Liberia, Busch, Wiese, Kugelmann, 1997
The listed forms may represent the same species with corrupted names.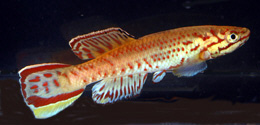 C.monroviae Paynesville.
Photo courtesy of Tony Terceira.
From Tony Terceira........
"Regarding the Paynesville issue, there were 3 entries in the AKA convention all were listed as Paynesville. one entry said Paynesville 97, the other Paynesville with no indicator and the last Paynesville 97/2. I was sent eggs of a species Paynesville 97 -"blau" last year but nothing hatched."
L97
Callopanchax monroviae Paynesville
Known to have been circulated in the AKA.
L97
Callopanchax liberiense Paynesville
This name appeared in SKS show results of 1999. Obviously not Callopanchax as liberiense belongs to Scriptaphyosemion. Obvious corruption.
L97

Aphyosemion (Roloffia) monroviae Paynesville L97/1.